Image and projection on stage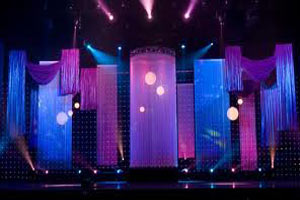 Play, dance, opera, musical: picture and especially moving picture is used more and more. From simple projection of video on a screen to a complete virtual environment on stage. This is however much more complicated to use then light and color. It becomes part of the story, of the actors, of the props. The theatre decor can be made with moving images but not necessarily in a flat plane. The image can be made in the background, the floor or any decoration product. The image is not always created by projection. The use of Led matrices transforms the decor to a light and color emitter. And this creates a totally different environment on stage with its own (dis)advantages. A major advantage is that the designer can sketch with light: every pixel can be controlled with color and illumination, creating a very fine nuance on stage.
Live in Colour can provide you with the hardware technology that you need to visualize your content on stage. We can also assist you on the "software" site: adjusting your content so that it fits the show. We have a content creation studio and we work with artists around the world.
media encoding
content creation
3D content and projection
projection and video equipment
media consulting
Theatre
In the classical theatre more and more moving images are being used. As an animated back ground or as part of the play itself.
I visited a theatre in South Germany where the whole play was not performed on stage; it was a real life 3D image!